In the American Midwest, on a spring day in 1944, farmers' regular concerns were in motion. Would the ground be too wet to till? When would be the best time to sow? How would the crops fare in the coming season? Those were no different than the questions farmers asked themselves every year. But in the spring of '44 there were new considerations. Would there be enough manpower to handle all the work needing to be done? With so many men away in service to the country (more than two million leaving their agricultural jobs between 1940-1942), who would run the equipment, do the planting, harvest the crops, man the canning factories? Could America supply enough food for her troops and their allies, not to mention everyone at home? How would those left behind manage it all with labor shortages at every level?

Well, our position isn't too different now. Throughout my lifetime and probably yours too, we've seen the demise of thousands of small farms. Large farms also struggle with everything from governmental regulation to supply and mechanical issues. All this along with those age-old questions topped by how will the crops fare in the coming season? Will stock farmers have hay enough to feed their herds, or will drought or flood ruin the crop? Will fertilizer be available to raise crops? Will there be delays in transportation that could ruin a harvest?

Some things we just can't predict. But in 1944, Americans learned ways to deal with the unknowns and changes brought on by international crisis. In large part, it began with the lady farmers. While women had long been working beside their husbands, sons, and fathers in fields and barns across America, now they took on the roles of total operation. There were even classes to help them learn how to take on their new line of work.



A 1942 article from LIFE magazine titled "Women Join the 'Field Artillery' as International Harvest Dealers Teach Power Farming to an Army of 'Tractorettes'" explained how the Harvester equipment company was helping girls learn to run equipment and manage farm work for themselves. Through a supply of manuals, slide films, mechanical diagrams, and service charts, the ladies learned to drive tractors, service the internal working parts of just about any piece of farm machinery, attach implements, and farm with confidence toward victory.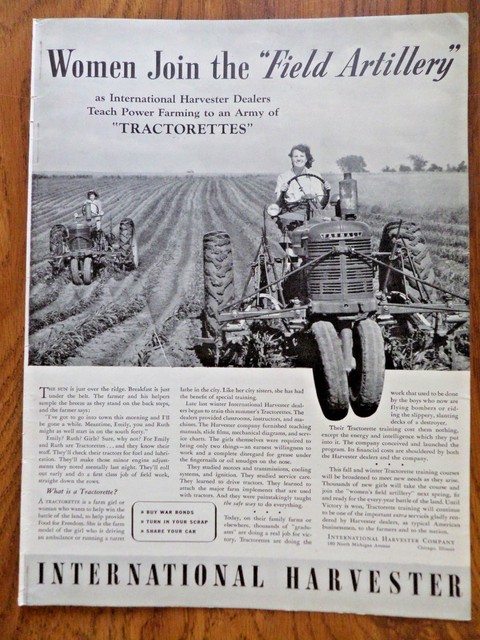 A promotional advertisement from the International Harvester company on becoming a "tractorette" in the women's "field artillery".

In Iowa in 1944, 4-H clubs declared themselves a "Victory Army". Youngsters aged 12 to 20 signed Victory Pledge cards with the slogan, "Feed a fighter or more in forty-four." That year the largest 4-H exposition ever was held in the state, with a program entirely devoted to war production. One thousand boys and girls attended.

Women and youngsters took over other roles as well. We've all heard the "Rosie the Riveter" stories, but many farm wives and daughters took jobs in state canneries as well. In the meantime, they continued with regular housework and "putting by" for their own home consumption. These hardworking gals weren't afraid to roll up their sleeves, get grime under their fingernails and grease smudges on their chins, and get the job done—whatever the work might entail.

One woman described her farm day as rising at 6:30 a.m. after burning the midnight oil. She always did her ironing, patching, and mending at night. Sometimes that was also when she'd accomplish her sewing—making the children's clothing as well as her own house dresses and slacks. She canned vegetables in the morning when they were fresh (picking them first thing), but she put up fruit at night, which didn't seem to make much difference. This woman said she planned to put up 500 quarts of food that summer.

Now, I am a canner and gardener. I've had years where I've done 200 quarts, and let me tell you—THAT was work. 500 quarts
—
along with milking the cows, sewing the clothes, plowing the field, hanging the wash, and everything else? I can't even imagine.

Bear in mind that the farmers didn't only have to till, sow, and reap their harvests. They also had to get them to market. In my novel coming out next June called Season of My Enemy, this involved hauling load after load of peas to the "viners", all in a very timely fashion. Later it was corn to the canneries. For a dairy farmer it was getting their milk to the dairy.

Next month I'll write more about labor during the war years. I'll explain about one of the means Americans came by to accomplish this monumental task. Here's a spoiler on that future post in this back cover copy for Season of My Enemy, which is available for pre-order:


Only last year, Fannie O'Brien's future shone bright, despite the war pounding Europe. With her father's sudden death and her brothers overseas, Fannie must now do the work of three men on their 200-acre Wisconsin farm—until eight German prisoners arrive as laborers and, just as Fannie feared, trouble comes too.

Captain Wolfgang Klonginger is relieved that his boys are off the warfront, keeping busy working the O'Brien farm, until they can all go home again and he can return to his teaching position in Berlin.

Crops take precedence, even as "accidents" happen around the farm. Could a saboteur be among them? Fannie is especially leery of the handsome German captain who seems intent on cracking her defenses. Can she manage the farm and hold her family together through these turbulent times, all while keeping the prisoners—and her heart—in line?

Naomi writes historical fiction from a deer farm and hunting preserve in the northern Wisconsin woods. In her free time, she "puts by" from a garden that she's never very successful at downsizing, and she also loves teaching her passel of grandchildren how to enjoy the bounty of the farm. Naomi invites readers to learn more about her books at naomimusch.com and subscribe to her monthly newsletter. Subscribers qualify each month for a giveaway drawing.