by Tamera Lynn Kraft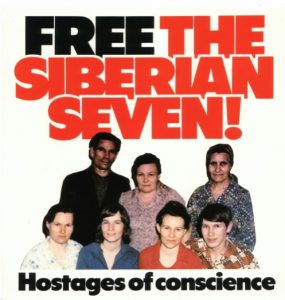 After the Russian Revolution in 1917, Russia became a communist nation and over the next 70 years amassed a great deal of territory, becoming the Soviet Union. One of the goals of the Soviet Union was to completely eliminate religion from society. This is where the policy of separation of church and state came from. The goal was to wipe the church from having any voice in public. Bibles were banned, and churches were closed. Although the government didn't outlaw all religious expression in private, preferring to educate and encourage citizens to give up religious beliefs, many Communists leaders participated in militant atheism.
This caused many horrific instances of persecution. Churches were closed, and the assets given to the state. Parents had children taken away from them for teaching them Christianity. Christians were arrested, tortured, imprisoned and sometimes killed for their faith. While all Christians were at risk, Pentecostals, Baptists, and Adventists were targeted the most. These small group of evangelicals frustrated the government because their numbers kept growing in the face of persecution. No matter what the Communist government did to them, they could not get them to recant. Most who were caught and arrested received 20 year prison sentences at the Gulag or were committed to insane asylums for the rest of their lives if they weren't tortured and killed.
In the 1960s and 1970s, the government was coming down hard on Pentecostalism, showing propaganda movies depicting Pentecostals as bloody fanatics and lunatics. In 1963, two Pentecostal Christian brothers petitioned the United States to give them asylum. The US refused because they didn't want to make the growing tensions with the USSR worse. The brothers were thrown in prison for five years.
In 1968, after getting out of prison,
Pyotr and his wife again petitioned the US and were again denied. Pyotr was sent to a mental institution, and his wife received a three year prison sentence. In 1978, the Pentecostal Christians again petitioned the US. This time, an Alabama pastor sponsored them and they were accepted. Now the problem was getting permission to leave the USSR.
In June, 1978, seven Pentecostals had the courage to go to the American Embassy. One of them distracted the guards while the other six escaped into the embassy gate and than managed to make his way inside. How they did this is a little foggy because these Soviet guards were diligent. They claimed it was a miracle. It was also a miracle that the Americans in the embassy accepted them into the building. They lived in the embassy basement until they were allowed to leave for the United States five years later on June 27, 1983.
Tamera Lynn Kraft writes Christian historical fiction set in America because there are so many adventures in American history. Her Novels, Red Sky over America and Alice's Notions and her novellas Resurrection of Hope and A Christmas Promise are available on Amazon and at Barnes and Noble.